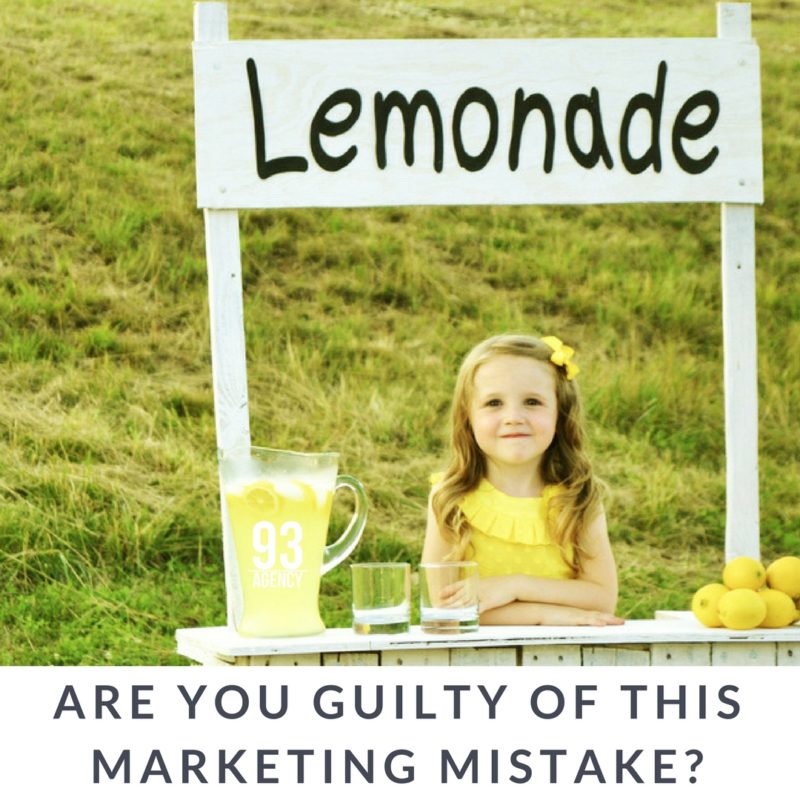 Are You Guilty Of This Social Media Mistake? | Lemonade Stand Marketing
Owning a business, big or small, requires you to wear a lot of hats. You've got a lot on your mind, and there is always something more important that you could be doing. As a result, many business owners tend to treat their social media accounts like a lemonade stand; yelling about their promotions to the first person who will listen, undermining the value of their service with uninspired content, and spamming the reluctant few who have subscribed to your pages with the same messages over and over. Until they eventually unfollow your business' page. We're going to tell you how you can take your business to the next level and avoid damaging your online presence further.
Social media is constantly changing. Be proactive and stay ahead of your competition.
Long gone are the days where posting the same photos and weekly status updates could net you a steady growth of organic followers.
Watch your competitors for clues. Keeping an eye on what your competitors are doing isn't copying if you're doing it better than them.
Stay on top of trends. Social media is all about being at the right place, at the right time, with the right message. If there's an event or trending topic that has to do with your business, make the most of it. Tailor your content to the audience and the context it serves. These are skills you will learn as you commit more hours to managing your profiles and pages, but it will undoubtedly pay off.
Stop telling. Start showing.
One of the most difficult aspects of creating high-quality content for your audience is to assess the value it provides. It's easy to say that your promotions are of value to you because you're the owner. Think about what action you want the potential reader or viewer to take. One of the best ways to capture anyone's interest is to make them feel like they are missing out by not subscribing to your blog, your channels, or your mailing list.
Instead of simply creating an event page, think about how you can take it one step further and truly wow your audience and interest them in your event. Consider what sort of information might pique the interest of potential attendees. You could create an event page on your website that the event ad will lead to. If there's a famous guest speaker in attendance or any other main attraction, use that to draw the masses.
If you're a restaurant owner and you've got a new menu, don't just post a picture of the new menu. SHOW US. Show us how these new and fantastic menu items can be used. Think of food pairings, or describing the history of a dish to give it a story. Let's face it, who doesn't love a good story? The point is, show your audience the value of your service. Put it to use.
Most people will search for a brand online before making any sort of purchase. With that information in mind, the content you make available to them will be your source for testimony to show the true quality and personality of your business.
Conclusion
While lemonade stands may have been a fun way to start a business as a kid, those tactics won't work on a population consumed by digital content. Highly active brands are out there using every tool and resource available to create almost addictive content for their followers. We can all take some time to learn from these iconic brands to help us break away from lemonade stand marketing tactics. Social media isn't a one-size-fits-all solution and is best used in collaboration with your other marketing channels. Used effectively, social media can be the most cost-effective marketing tool in your arsenal.
Make sure to follow us so you can be the first to know about new articles on marketing tips for small businesses, industry news, case studies and more!