Client Interview: Eric Kunstadt, Kunstadt Sports
LAST WEEK WE HAD THE PLEASURE OF SPEAKING TO ERIC KUNSTADT, PRESIDENT OF LONG-TIME 93 AGENCY CLIENT KUNSTADT SPORTS. ERIC DISCUSSED HOW WORKING WITH 93 AGENCY HAS BOOSTED THEIR ONLINE PRESENCE, AND HE GIVES SOME ADVICE TO OTHER SMALL AND MEDIUM BUSINESSES WHO ARE SEEKING RESULTS THROUGH SOCIAL MEDIA AND DIGITAL MARKETING.
Credit: Natalie Allport, 93 Agency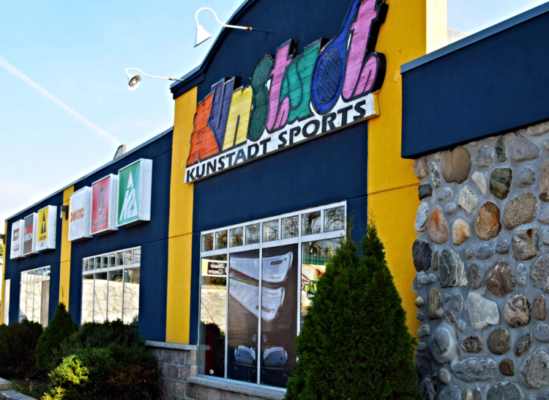 Credit: Natalie Allport, 93 Agency
*THIS INTERVIEW WAS CONDUCTED VIA TELEPHONE. THIS IS A TRANSCRIPT OF THE PHONE CALL WHICH OCCURRED ON JULY 14TH, 2016 AT 9:03AM.*
N (Natalie Allport): Good morning Eric!
E (Eric Kunstadt): Good morning back to you Natalie!
N: I'm going to get right into it and get started with questions. The Kunstadt name is a staple in Ottawa. Could you tell us more about how your business got started?
E: Well, we started it back in the '80s when we (Eric and brother Ron) were still in high school. We ran the business out of our parent's home. More on a part-time basis, and we operated there for about 5 years during university. In 1993 we signed our first commercial space lease and that's where it all took off!
N: You guys reached out to me a few years ago when you wanted to get started on social media, and had done some work on your own before that. What were your social media efforts like before working with myself and the 93 Agency team?
E: About 5 years ago, we were invited to a conference that was put on by a radio station. They had a guest speaker that was speaking to about 300 local business people. He said that businesses should be focused more on social media marketing to drive sales. Since that day we haven't spent a dollar on radio, tv, or print advertising, and focused all of our energy and resources on the online aspect. Before we started working with 93 Agency we tried to do it in-house but were not able to achieve success in the long-term. At first, we were motivated to get into it, but with everything else that needs attention in our business, our team would get into it for a couple weeks and then something would come up and we would get distracted and forget about it. We realized it was important to have someone to manage it properly and consistently in order for the audience and reach to grow and keep growing.
N: We've been working together for several years now! How has business changed since then?
E: There's always ups and downs in business and there are a lot of factors that go into play. Right now, things are on the up and up and a lot of that can be attributed to social media and marketing, staff training, and the market itself, in terms of competition and seasonal demand. Whenever we have a new announcement, we definitely use all of our digital assets, whether it's Twitter, Instagram, Facebook, Email… all of those are great tools for a business like ours in a city like Ottawa. We've definitely seen significant growth in our reach and sales since working with 93 Agency and having you guys manage these marketing efforts.
N: Would you agree that social media is something that takes full-time dedicated attention?
E: When you're operating a business with 50 employees and three different locations, there's a lot of projects on the go and deadlines that are happening with purchasing and receiving goods, so having a team dedicated to social media management is a huge weight off our shoulders which allows to focus on other things like delivering quality customer service and products that people love and keep coming back for. It's aa collaborative effort and we try to do a bit on our end, but we really wouldn't be able to able to do it without the help of 93 Agency.
N: We really appreciate the respect you have for what we do! We believe that social media is, and if it is not already, should be used as the main marketing channel for small and medium businesses. Would you agree?
E: I do. We're almost 100% online and digital with our marketing, other than doing live events and demos. Even then, social media helps us leverage these events and activities by promoting them online and creating a conversation or buzz to get people there in the first place.
N: Has working with us given you a competitive advantage in your market?
E: Definitely! We've really been able to take advantage of using social media to reach our customers and keep them updated.
N: What would you say to small and medium business owners who are hesitant about starting on social media? Would you recommend they start on their own, or recruit an agency?
E: They should definitely hire an agency. It's best to go to the experts, which is what you guys are! They should also get familiar with the forms of media that they want to be using. It will help you appreciate the success of the agency's efforts and it will help you understand it more as you grow your business. A good idea can come from anywhere and anyone and you need to know what content to send to the agency. It helps to understand how much effort really goes on behind the scenes.
N: Thank you so much for your time! As you know, we love working with you guys and the relationship we have built. It's been awesome to see how we've grown together, Kunstadt being our very first client! Is there anything you'd like to add before we conclude the conversation?
E: We love working with you and enjoy seeing how the agency is growing and helping us grow! It's great to see how the relationship has built and will be exciting to see where we will got together in the future. We are definitely in this for the long haul and appreciate all the effort you guys put in! It's important that we've built a close long-term relationship, as you guys have been able to spend time getting to know our business really well, which is why we've both been so successful.
From the entire 93 Agency team, we thank Eric and Kunstadt Sports for the trust they have given us. Thanks especially to Eric for the information and knowledge you shared with us throughout this interview. We hope this helps to encourage other businesses to boost their online efforts and recognize the effort it takes to reach this level of social media success.
Want to learn more about Kunstadt Sports? Check out their website: www.kunstadt.com
Looking for more information on social media management? Email us at: getsocial@93agency.com